Details

Category: Short Biographies and Commentaries
Hits: 110816
The Life of Prophet Muhammad
Taken, with some editorial changes, from Pickthall's introduction to his translation of the Qur'an.
The Prophet's Birth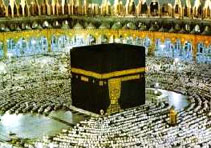 The Ka`bah today
Muhammad, son of Abdullah, son of Abdul Muttalib, of the tribe of Quraysh, was born in Makkah fifty-three years before the Hijrah. His father died before he was born, and he was protected first by his grandfather, Abdul Muttalib, and after his grandfather's death, by his uncle Abu Talib.
As a young boy he traveled with his uncle in the merchants' caravan to Syria, and some years afterwards made the same journey in the service of a wealthy widow named Khadijah. So faithfully did he transact the widow's business, and so excellent was the report of his behavior, which she received from her old servant who had accompanied him, that she soon afterwards married her young agent; and the marriage proved a very happy one, though she was fifteen years older than he was. Throughout the twenty-six years of their life together he remained devoted to her; and after her death, when he took other wives he always mentioned her with the greatest love and reverence. This marriage gave him rank among the notables of Makkah, while his conduct earned for him the surname Al-Amin, the "trustworthy."
Read more: The Life of Prophet Muhammad By Mohammed Marmaduke Pickthall
Details

Category: Forty Hadith of An-Nwawi
Hits: 9073
Notes mostly from Shaikh Jamal Zarabozo Commentary
Outline:
Hadith from Imam Nawawi text
Why the word Nutfah is not part of the Hadeeth 

How it changes meanings of first part - Breathing of soul after Forty days
Hadith must always take priority over science

Meanings of Sadiq and Masdooq 
Details

Category: Forty Hadith of An-Nwawi
Hits: 4284
Hadith 1: Actions based on Intentions
(A Summary based on commentaries by Imam Ibn Rajab and Shaikh Jamal Zarabozo)
 [ PowerPoint presentation Download ]
It is narrated on the authority of Amirul Mu'minin, Abu Hafs 'Umar bin al-Khattab (ra) who said:
I heard the Messenger of Allah (ﷺ) say: "Surely, all actions are but by intention  (niyyah), so each man will have what he intended. Thus, he whose migration (hijrah) was to Allah and His Messenger, his migration is to Allah and His Messenger; but he whose migration was for some worldly thing he might gain, or for a wife he might marry, his migration is to that for which he migrated." [Bukhari & Muslim]
عَنْ أَمِيرِ الْمُؤْمِنِينَ أَبِي حَفْصٍ عُمَرَ بْنِ الْخَطَّابِ رَضِيَ اللهُ عَنْهُ قَالَ: سَمِعْتُرَسُولَ اللَّهِ صلى الله عليه وسلم يَقُولُ: " إنَّمَا الْأَعْمَالُ بِالنِّيَّاتِ، وَإِنَّمَا لِكُلِّ امْرِئٍمَا نَوَى، فَمَنْ كَانَتْ هِجْرَتُهُ إلَى اللَّهِ وَرَسُولِهِ فَهِجْرَتُهُ إلَى اللَّهِ وَرَسُولِهِ، وَمَنْ كَانَتْهِجْرَتُهُ لِدُنْيَا يُصِيبُهَا أَوْ امْرَأَةٍ يَنْكِحُهَا فَهِجْرَتُهُ إلَى مَا هَاجَرَ إلَيْهِ".
رَوَاهُ إِمَامَا الْمُحَدِّثِينَ أَبُو عَبْدِ اللهِ مُحَمَّدُ بنُ إِسْمَاعِيل بن إِبْرَاهِيم بن الْمُغِيرَة بنبَرْدِزبَه الْبُخَارِيُّ الْجُعْفِيُّ [رقم:1]، وَأَبُو الْحُسَيْنِ مُسْلِمٌ بنُ الْحَجَّاج بن مُسْلِمالْقُشَيْرِيُّ النَّيْسَابُورِيُّ [رقم:1907] رَضِيَ اللهُ عَنْهُمَا فِي "صَحِيحَيْهِمَا" اللذَينِ هُمَا أَصَحُّ الْكُتُبِ الْمُصَنَّفَةِ.
Short Quotes
Fast to Develop Piety
يَا أَيُّهَا الَّذِينَ آمَنُواْ كُتِبَ عَلَيْكُمُ الصِّيَامُ كَمَا كُتِبَ عَلَى الَّذِينَ مِن قَبْلِكُمْ لَعَلَّكُمْ تَتَّقُونَ
(2:183) O Believers, the Fast has been made obligatory on you just as it was prescribed for the followers of the Prophets before you. It is expected that this will produce piety in you.